Your baby's christening is the first special event you will celebrate with your child. Surely you want everything to be ideal in such an important moment. In this article, we are going to show you some baby looks that will inspire you to choose your child's christening clothes.
To make it easier for you to imagine your baby in a christening look, today we are going to show you real christening baby outfits, outfits that some of our customers have chosen. . We would like to take this opportunity to thank those customers who have allowed us to use their photos for their children's costumes as inspiration.
Origen de los faldones de bautizo
Before anything else, we would like to introduce the most traditional garment: the faldones de bautizo. Todos conocemos este tradicional vestido de bebé, es posible que tú también lo hayas llevado en el momento de tu bautismo. We all know this traditional baby dress, it is possible that you also wore it at the time of your baptism. We all know this traditional baby dress, it is possible that you also wore it at the time of your christening.
El faldón es un ropaje largo que envuelve al bebé. It is so long because, at first, baptisms were performed by completely submerging the baby in water. For this reason, after submerging it, a garment with a lot of fabric was needed, which would keep it warm and dry. Next, we leave you some old family photos, in which you can see what the baptismal skirts were like before.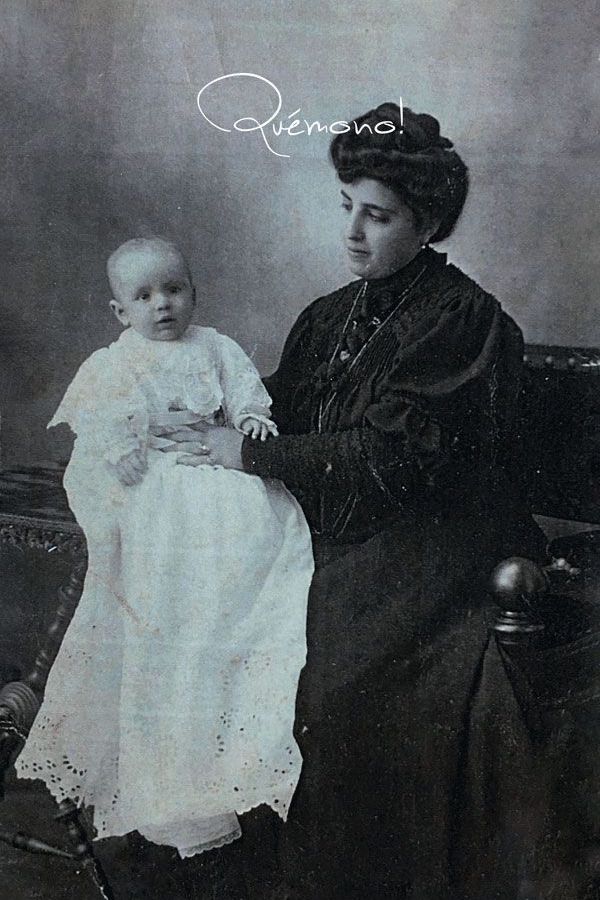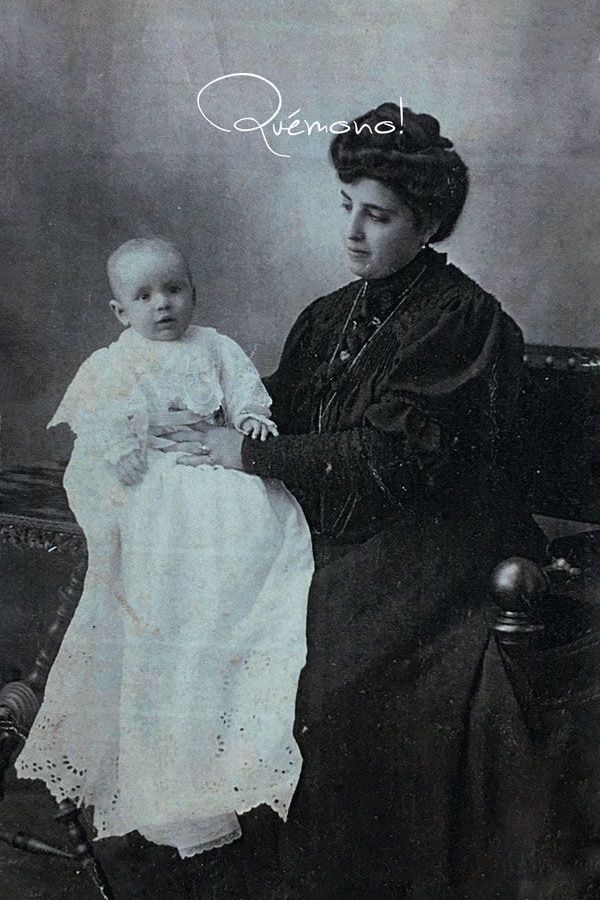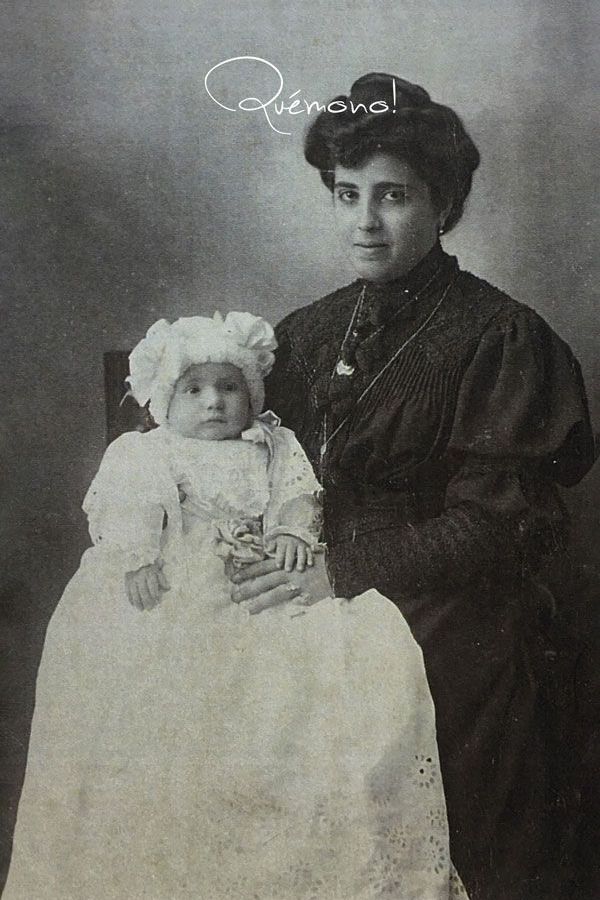 However, currently the baby is not submerged. That is why these garments have evolved and are often shortened, giving rise to the half skirt. Moving forward in this article we leave you an image of an example of the traditional christening skirt and another of the half skirt, so you can compare them.
Although christening skirts are still the most popular option, there are more and more alternatives to the long and classic skirts, such as half skirts, baby ceremony dresses or even little frogs. In addition to the real cases that we are going to show you in this article, we have also made an article where you can see the types of christening skirts.
5 looks from real customers to help you choose your child's christening outfit
A) Babies who were dressed in a christening skirt.
Look #1: Celia, baptized with a long tulle plumeti skirt
In this case, the baby was less than a year old and was not walking, so the parents could opt for the christening skirt for his daughter. Specifically, Celia used the Gabriela long skirt in plumeti tulle.
This dress is made entirely in plumeti tulle, a soft fabric with dots sewn on the semi-transparent tulle. In addition, the skirt has sleeves with a wing design. If you look at these sleeves, you can clearly see the plumeti dots on the tulle.
As it could not be otherwise, the ideal complement to the Gabriela skirt is the Gabriela plumeti tulle hood. This hood goes perfectly with the dress, as it is based on the same design and is made of the same fabric as the dress.
Although it is not visible in the photo, Celia was wearing the Gabriela diaper cover matching skirt and hood. This baby diaper cover is specifically designed as a complement to this christening gown.
Lastly, they added a touch of color to the ensemble with the fMerida cushion in toasted color, a linen sash with an infinite loop on the front.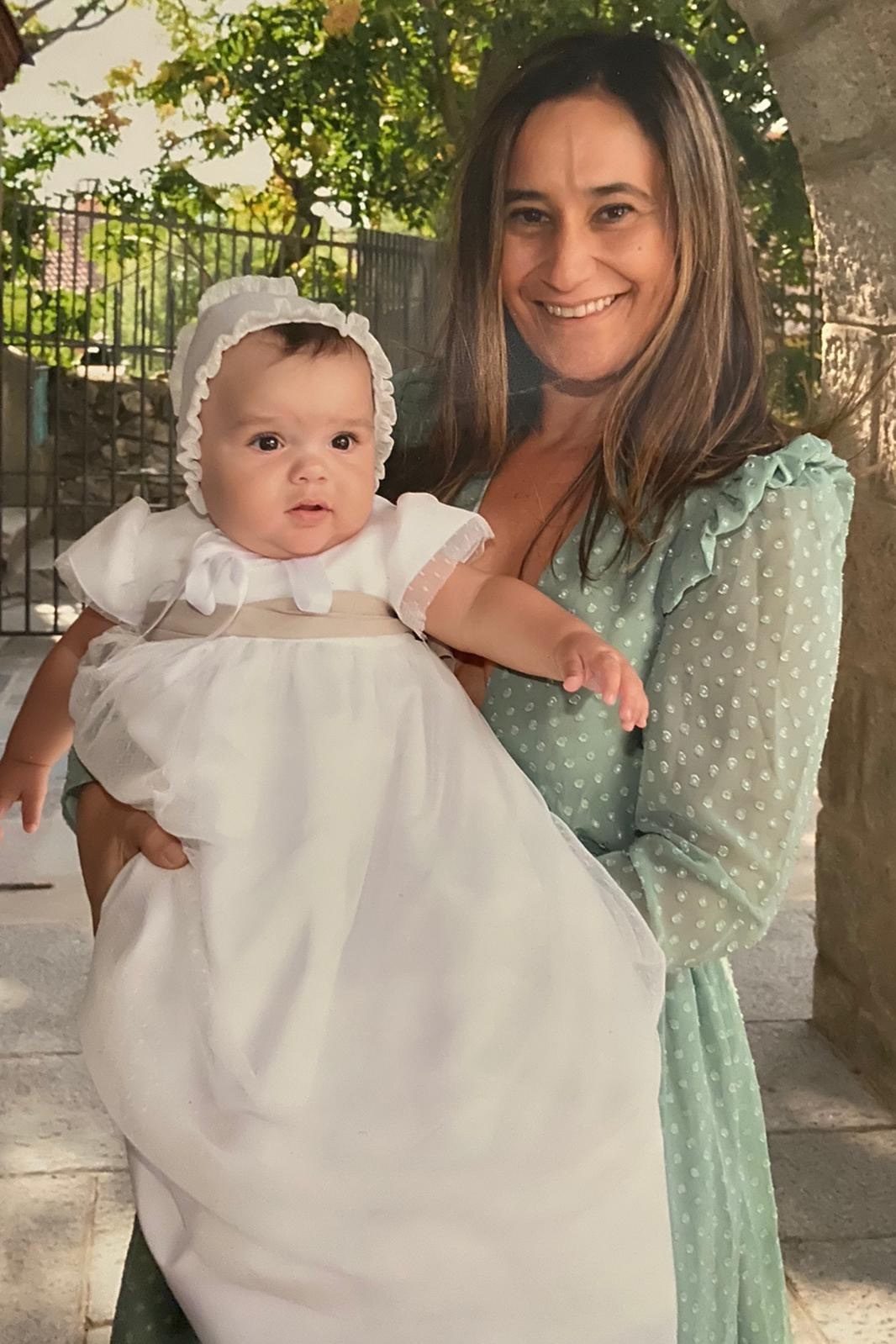 Look #2: Rosina and her long embroidered tulle skirt
Since, like Celia, Rosina did not walk, her parents were able to choose a long skirt for their baby. Specifically, they chose the christening skirt Marisol.
The skirt of this skirt is made of embroidered tulle, while the bodice is made of tulle on a cotton base. On the other hand, the skirt sleeves have a wing design.
In addition, as far as accessories are concerned, Rosina wears the Marisol christening hood and the Marisol diaper cover. Both accessories were designed specifically for the Marisol dress. On the other hand, Rosina's parents chose not to wear a sash for the outfit.
In the following images we show you each of the clothes that Rosina's parents chose for her christening: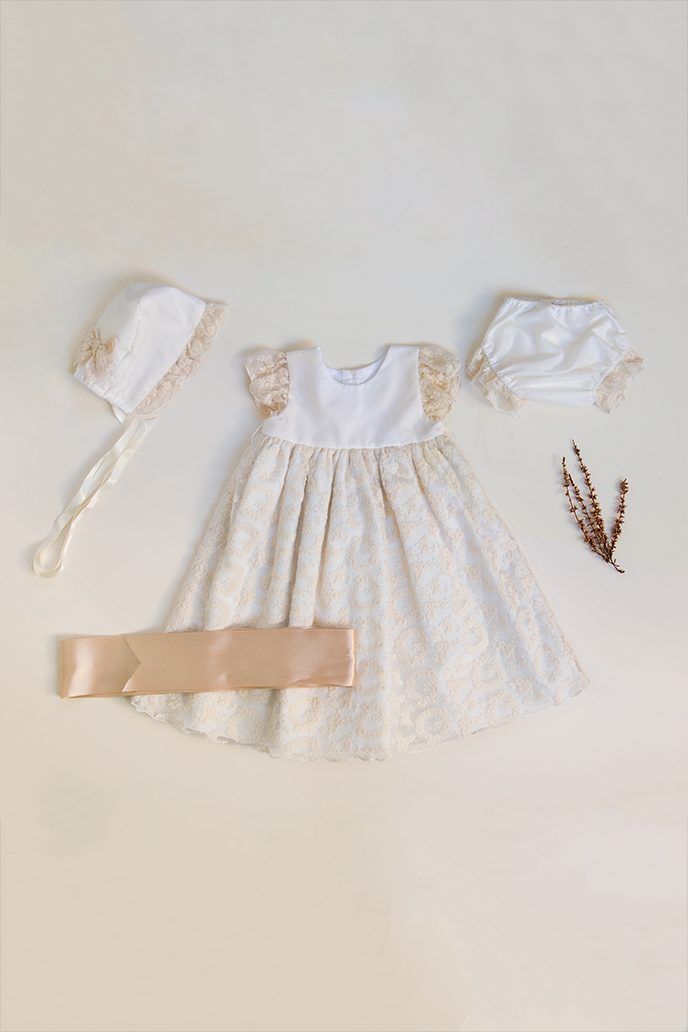 Rosina was baptized with the Marisol long skirt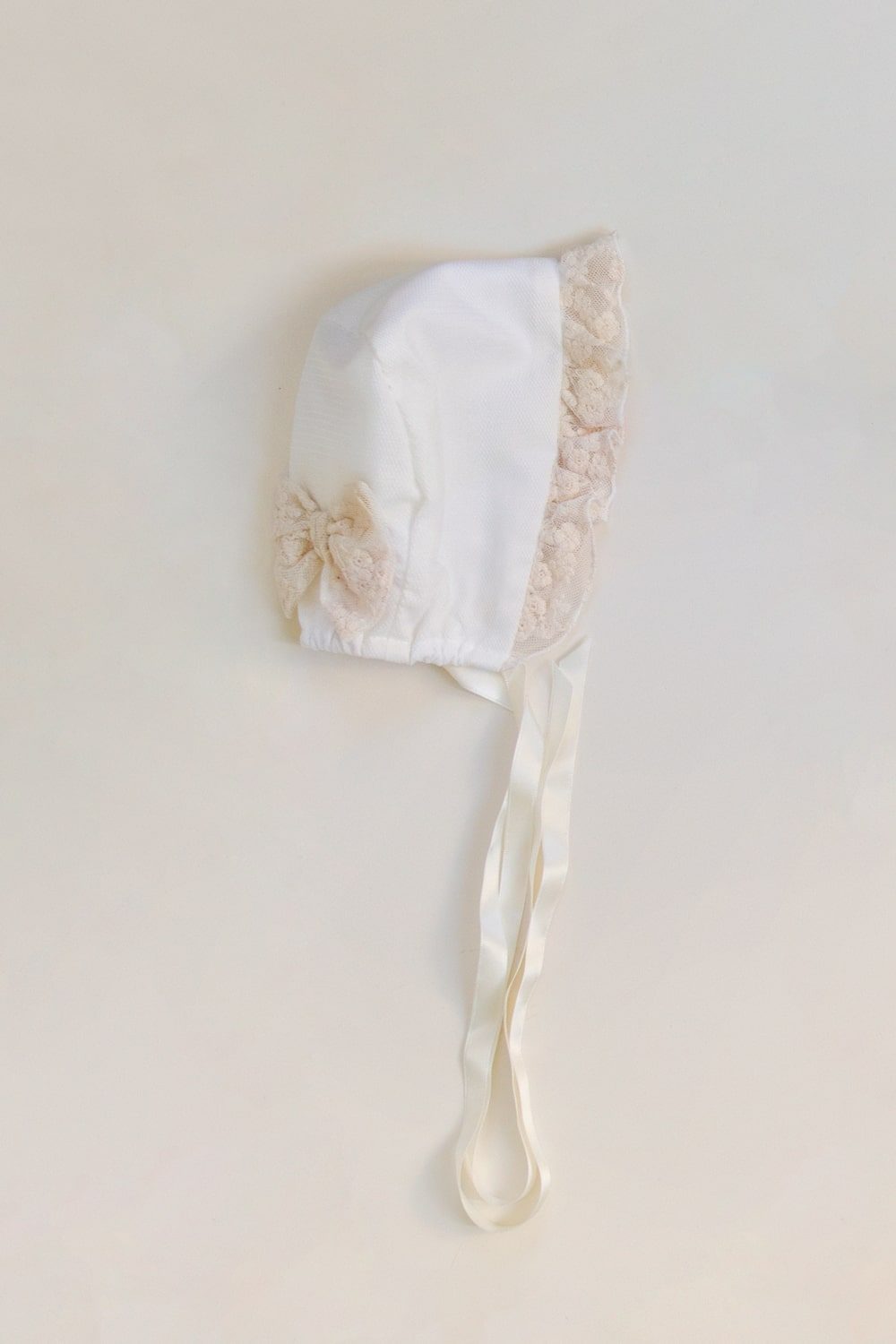 They chose the Marisol hood, specifically designed for the Marisol skirt
They topped it all off with the Marisol diaper cover, specifically designed for this set
Look #3: Gabriela with her personalized Hanna christening skirt.
Here you can see another of the choices of those parents who have decided to trust Quémono to dress their little one on the day of his christening. In this option that we show you, Gabriela wore for her christening the Hanna long skirt. It is a skirt made of cotton sateen and ottoman, soft and very comfortable fabrics. In the images taken by the wonderful Lucía Romero (@luciaromerofotografia) you can appreciate the baby's look.
In this case, the little girl's parents decided to customize the sleeve of the dress, going from a scoop sleeve to a ¾ sleeve, a very flattering option as well. To top it all off, they decided to choose the Hanna hood, a canopy specially designed for this skirt. You can easily appreciate its ottoman fabric construction thanks to the raised stripes so characteristic of this fabric. The skirt is combined with a Marbella baby sash, in the same fabric and in white. Finally, under the skirt, Gabriela is wearing a linen diaper cover so that her bottom does not show.
Below, we leave you all the base garments from which Gabriela's parents made the customizations.
B) Babies who went to their christening in a ceremonial dress.
Look #4: Olivia, wore the embroidered tulle Grace dress for her christening.
cLook #4: Olivia, llevó el vestido Grace de tul bordado para su bautizo. The christening skirt in this case was not possible, because the girl was already walking and a dress as long as the skirt would not allow her to stand upright. . The half skirt was also not a possibility because, being a dress that comes to the baby's ankles, it makes it very difficult for him to walk and can cause him to trip. Therefore, Olivia's parents chose to dress their little girl in a short, knee-length ceremony dress that would allow her to walk.
Parents chose to customize the Grace ceremony dress made of embroidered tulle cream color (below we leave you all the base garments from which Olivia's parents made the customizations). The parents especially wanted this fabric because it matched the fabric of the skirt that the girl's mother was going to wear. However, we only use the skirt of this dress, which comes with a cancan. The fact that it has a yoke is highly recommended for girls who are just starting to walk, since the yoke separates the skirt from the legs and, therefore, prevents the skirt from getting in the way when walking. But there is still more advantages of wearing cancan for the child. Below, we show you the photos of the christening gown Olivia wore on her day: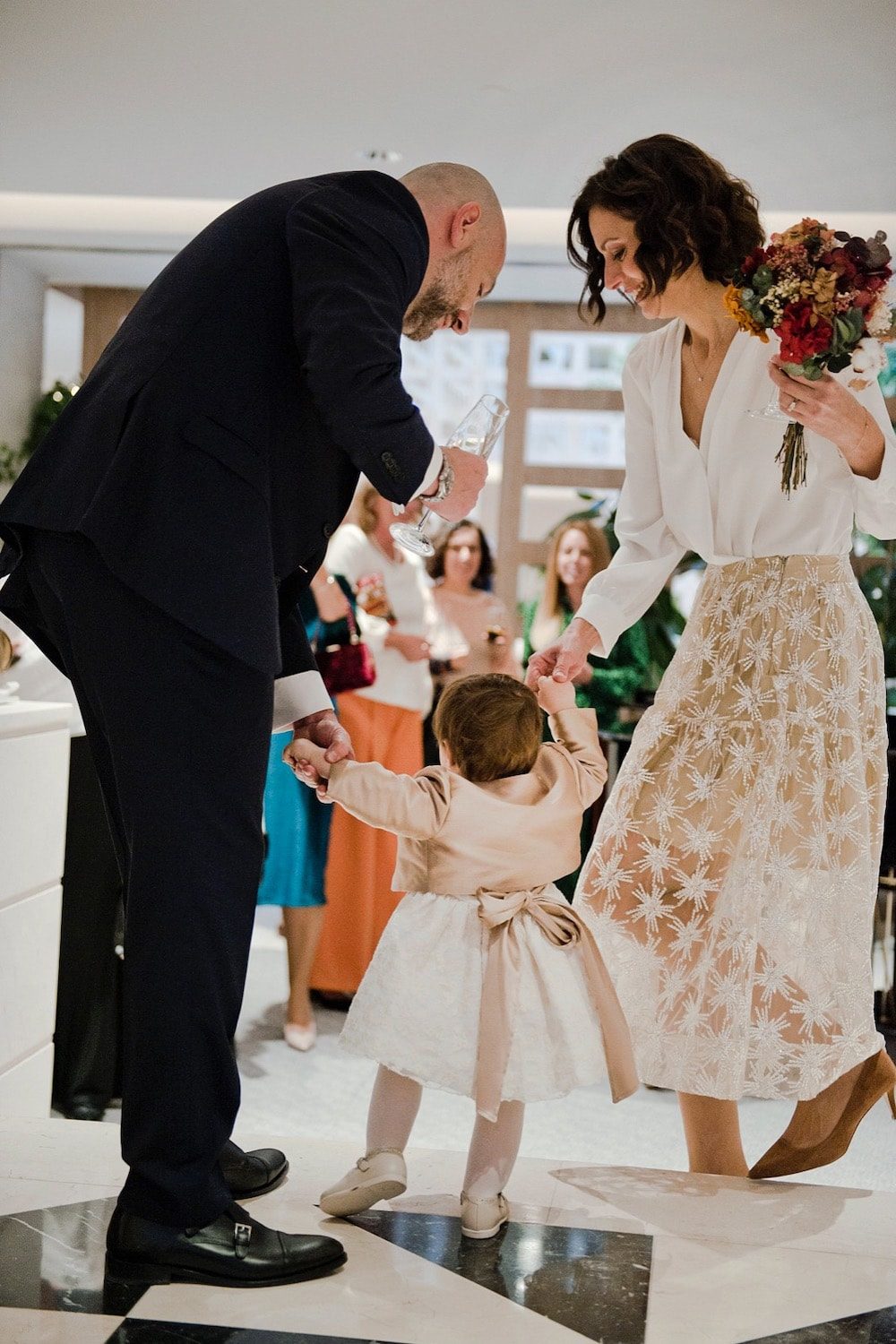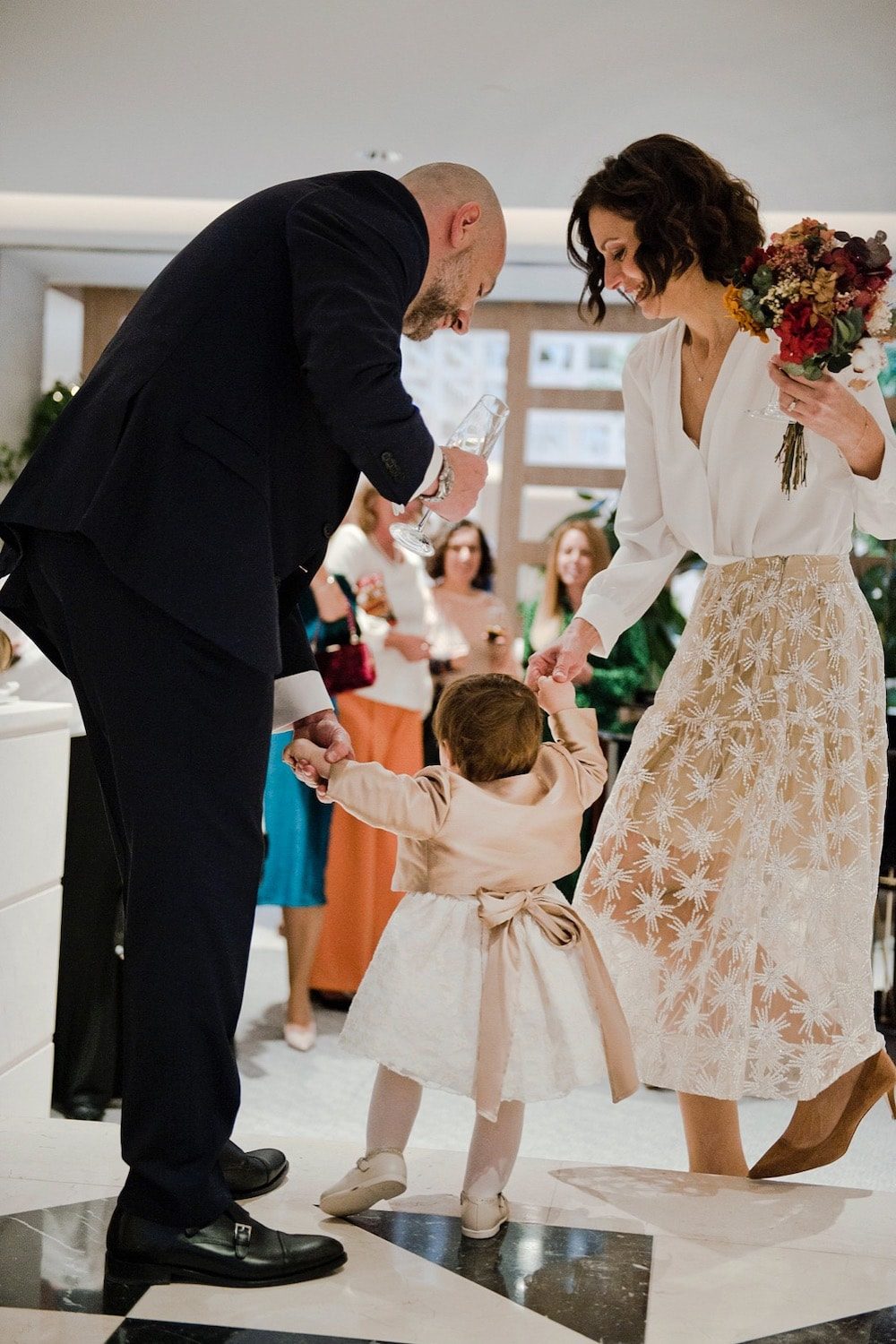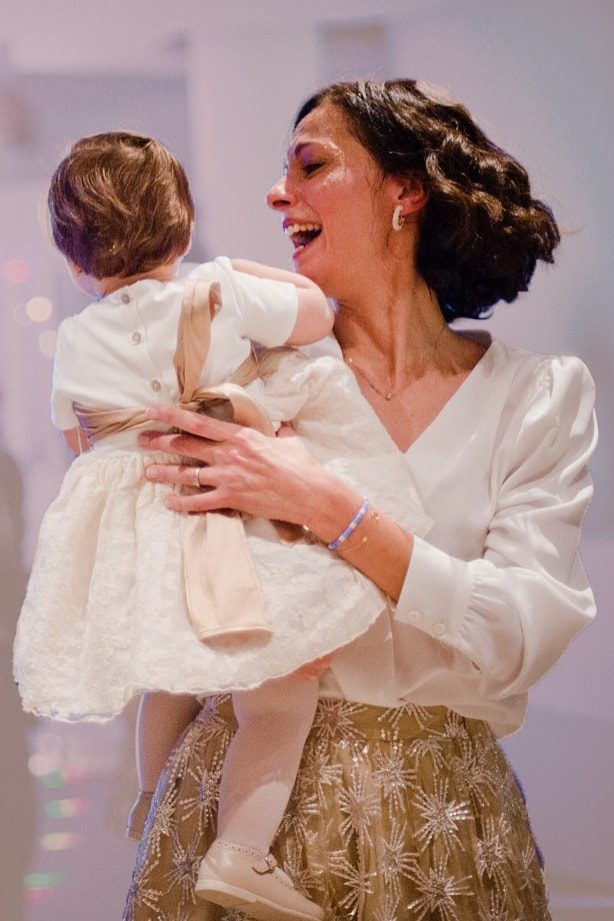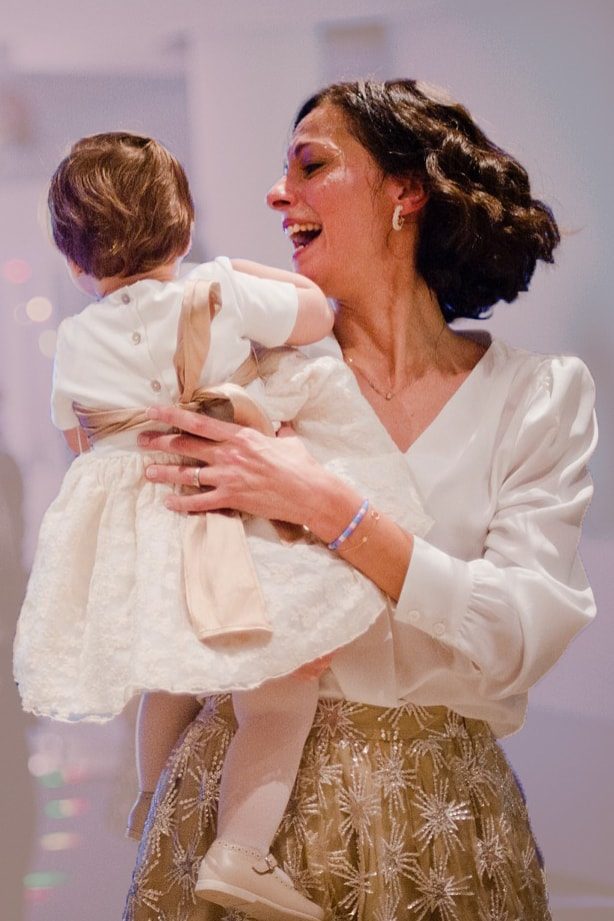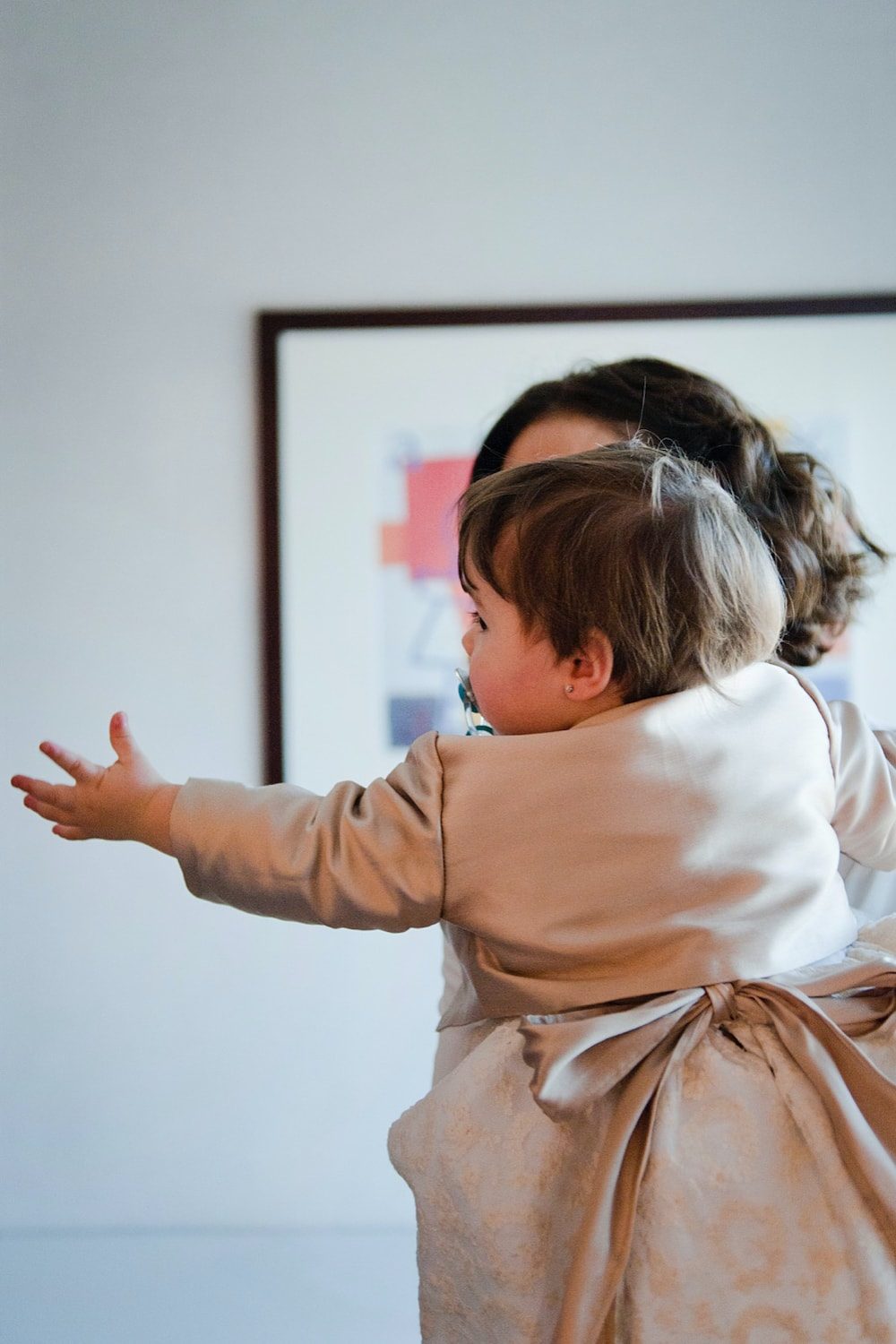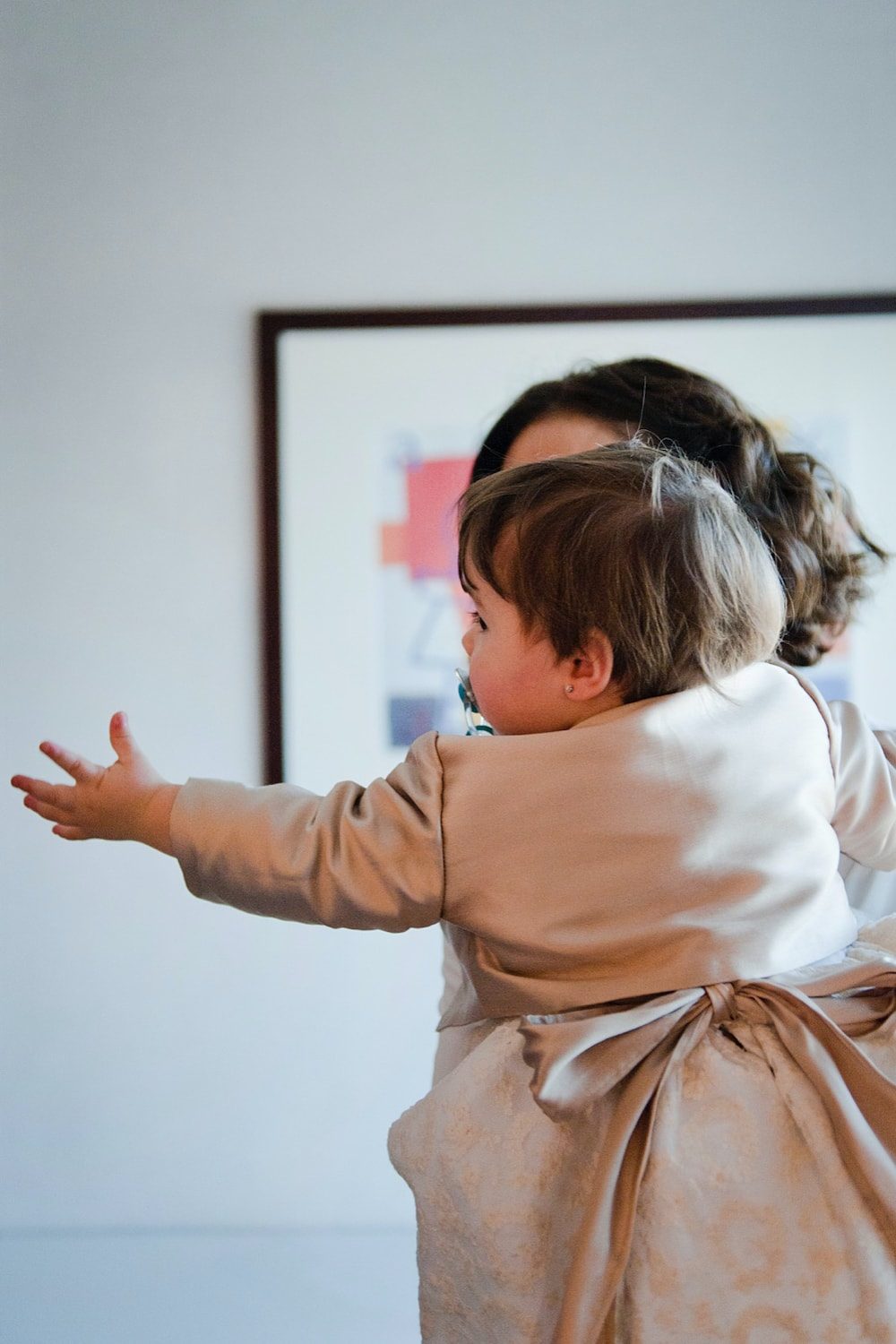 We changed both the fabric and the design of the dress. The bodice of the dress was a specific design for Olivia, made in ivory lined tulle. The bodice of the dress was a specific design for Olivia, made in ivory lined tulle.
As for accessories, Olivia wore a bolero and matching sash, both in gold-colored mikado fabric. The parents customized these accessories, changing the fabric of the original bolero and sash (we leave the original garments below). The bolero on which the parents based it was the bolero Lucía, a velvet bolero which closes at the front with a pearl button. As for the sash, they chose to base it on the plain sash plus baby bows, made of linen. The truth is that the final christening outfit was beautiful.
Look #5: Inés wore the Rita trimmings dress to her christening
This is another case in which the child was over a year old and already walking, so opting for a skirt was not the most appropriate. Rather than a convenience, it was going to be an inconvenience when it came to walking. This is how Inés' parents show us how well their daughter feels about her final decision.
In the pictures sent to us by her parents, you can see little Inés wearing a Rita dress with baby piping with powder pink details. To match it, her parents decided to add to the dress a sash Sol with baby bows and a dusty pink diaper cover. And notice also the sweet look that the bow gives to the look. of hair they chose in the same fabric and color. We love it!
Other christening looks for your baby
In addition to the real cases we have shown you, we are going to propose two more cases that our clients choose frequently for their children. In these two proposals we are going to leave the classic christening skirts, as they are options that you may have more in mind, and we want to show you the alternatives you have to dress your baby in his christening.
Dani ceremony dress for your baby girl
The Dani dress is a beautiful ceremony gown and a ideal dress for modern christenings. It is made by hand in brocaded cotton, with a piculin detail along the collar and sleeves. The color of these piculines can be chosen to match the sash and other accessories.
This dress comes with a built-in cancan, which enhances the flight of the dress and facilitates the movement of the girl's legs. . Therefore, this solution is highly recommended for girls who are just starting to walk. As it is a dress specially designed for babies who begin to take their first steps, it is made with a baby cut. This cut, specifically for the youngest members of the family, has the waist cut just below the chest and the skirt is especially short, so it is usually complemented with a matching overdress with the piculines. This dress can be combined with summer or winter accessories, depending on the city or the time of the year in which the christening is celebrated. In the photo you can see the set with a baby sash for lacing and a cool baby diaper cover for summer, both made of tan linen. As a final touch, you can order the hood for your baby girl together with the fabric and the piculines, so that your little one does not lack detail.
Frocks and other neat outfits
Another option that is becoming more and more popular for dressing children for their christening in a modern way is street clothes. Although logically, by street clothes I don't mean jeans and a sweatshirt. I am referring rather to clothes that are smart, but as close as possible to the clothes that children wear on any given weekend, so that you can also wear the clothes on other occasions. . The most common here is to opt for a jumpsuit or short dress for girls and for a frog or a pair of bloomers with straps for boys.
The little frogs and pants for children are options that you can choose from in different designs, colors and fabrics. If you opt for garments of this style, it has the advantage that they are more versatile to dress your baby, so they offer you the possibility of giving them a second life by using them to dress your baby in other types of events and even for everyday wear.
Baby frogs for christenings are an option increasingly chosen by parents to celebrate the big day. . One of the most versatile froggies is the Tristan christening frog, ideal for any time of the year and can be combined with different garments. The good thing about this garment is that, after the christening, the baby can wear it on other occasions. In summer, it can be worn with nothing underneath or with a white short-sleeved T-shirt. In winter, to make it warmer, it can be worn with a long-sleeved bodysuit and a ruffled shirt underneath and even a cardigan over it if it is colder.
Recommendations and conclusion
As you can see, the skirt is the garment to which our customers turn to the most when choosing the look for their baby's christening. . For girls, if they are not walking and are not older than 8 months, they are usually put on a christening skirt shorter than the classic ones, in white and ecru tones, accompanied by a detail such as a lace or a soft color. They are always accompanied by matching hoods and panties.
If you don't like the option of a long christening gown, they also go perfectly with a christening gown Jesusito" type, that is to say, with a short dress that shows her panties. Of course, a panty with lace or finishes that make it special.
For children, a skirt is also usually put on the child as a christening gown or Christianize, although the frog option is increasingly chosen. All these christening gown options, as in the case of them, accompanied by some ribbon, embroidery or lace that gives a special touch or color.
Ultimately, the answer to the question ¿how to dress a baby for baptism? It has multiple answers and all are correct, you just have to be clear about the style with which you want to dress your little one and let yourself be advised by professionals who will guide you when deciding what type of garment is the one that best suits your needs.