It's been a long time coming, but communions, celebrations and various events are already here. If you have already built the look with which your little one will go to these important dates, but you are looking for something that transform the ensemble and make it even more special: bow ties and neckties are what you need. Do you want to know how to combine them? Read on!
The Flavio shirt, in white, it matches perfectly with one of our tan linen bow ties: a look with soft lines that respects the simple style you were looking for for your little one.
At Quémono we believe that every child should dress the way he/she wants, with freedom and feeling himself/herself at all times. Therefore, we will tell you that all the answers to this question are correct!
However, we advise you to take into account several factors when combining and choosing. For example, if your little one is going to make communion , you must keet in mind the style of the communion suit. In addition, knowing that simpler communion dresses are best combined with more neutral accessories such as bow ties. Sometimes ties can be too flashy or take up too much space, thus stealing the limelight from your little one's outfit. As we show you in the picture above, the Flavio shirt, in white, it matches perfectly with one of our tan linen bow ties: a look with soft lines that respects the simple style you were looking for for your little one.
On the other hand, if you have opted for a traditional jacket suit or a communion dress in strong tones, vestido de comunión Choosing a tie that matches the tones of the suit itself will balance the look and make your little one the center of attention.
Although when it comes to dressing children with communion or ceremony looks "the norm" is not to combine the bow tie and jacket, this does not have to be the case! As you can see below, little Fernando has combined the Lenon shirt and the Leo jacket with one of our bow ties and it looks absolutely gorgeous.
Bow tie or necktie depending on the child and the ceremony
The choice of a tie or a bow tie depends, first of all, on the personal taste of the child. The protocol indicates that lties are the most suitable accessory for daytime ceremonies. Ties always add a very elegant touch to a suit jacket, but be careful to choose light fabrics and simple, fun prints to keep the boy's outfit natural.
Following the traditions, we could think that the bow ties are reserved for more formal evening looks.. However, more and more of these accessories are being used to attend events of all kinds. They are also a fun and easy way to transform a look in seconds.
The child's personality and style is also an aspect to take into account. Generally, children are not used to wearing this type of clothing in their daily lives, so wearing a tie or bow tie at certain times may be uncomfortable. The bow tie is most likely to be more comfortable for them, as they do not see it when looking down, they forget they are wearing it, unlike the tie which is usually moving uncontrollably.
In addition, to help the child feel comfortable, we recommend a bow tie that fastens with a button. Since Quémono promotes comfort, all of our bow ties are designed to be comfortable. are fastened with a button according to the width required. This will provide them with comfort when putting it on and wearing it. As for the ties, ideally they should be knotted so that they can be perfectly adjusted to the child's measurements. In this case, we recommend that you tie a knot that is not too tight, allowing your child to maintain elegance in his or her look and, above all, to remain comfortable.
How to match a necktie or bow tie
Las reglas para elegir un color u otro no tienen nada que ver con el hecho de haber elegido una corbata o una pajarita. For example: if the suit has a vest and the vest is of a different shade than the suit, the tie must match the vest.
For a suit in ecru colors, light gray or white, the ideal is also to choose this neck accessory in light tones. Beiges, pale pinks, creams and even aquamarines will match perfectly. A powdered pink bow tie can be a good resource in these cases. It is also possible to opt for a tie or bow tie in a flashy tone to give a touch of color, but always take it with caution and verify the final result before purchasing it.
In the case of dark suits, choosing the colors is much simpler: go for simple colors, without prints and not too strident and you will have achieved the winning combination.
Whatever color you choose, whether it's a tie or a bow tie, let us tell you that at Quémono we have them all. In addition, we make them in fabrics such as linen to make them as light and comfortable as possible for your little one. In the images you can see some of the colors that we propose, do you need another one? All you have to do is ask!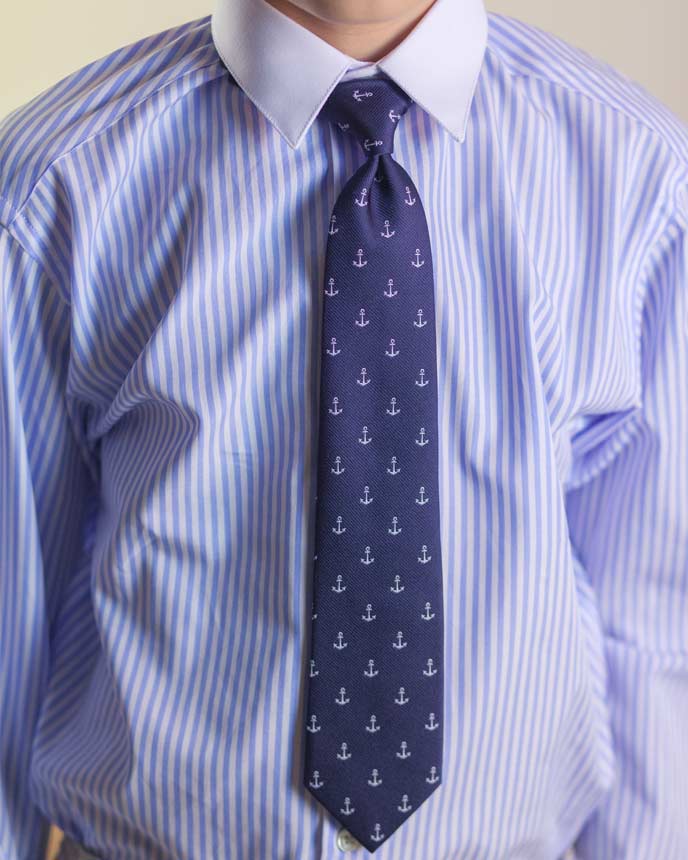 Surely after reading this article all your doubts about what accessory to choose for your little one's look have been solved, simply… whatever suits your tastes! But remember, if you finally choose not to wear accessories, shirts with mao collar give an informal and elegant touch at the same time and are perfect for any occasion.
Listen to your little one's preferences and create the perfect look for a ceremony, event or First Communion!