The baby's christening is the first of many special days and events you will spend with your baby. Whether you are the father, the mother or a close guest, it is a date full of emotion and happiness that none of you will forget. We know how important it is for everything to be perfect: the ceremony, the decoration, the banquet, the your baby's christening dress y, cómo no, el look que vosotros elegiréis para acudir al bautizo.
You may already have everything organized and are starting to wonder what to wear to the christening. To help you, in this article we provide you with some tips to achieve a look that matches the ceremony and is absolutely perfect.
What type of dress to choose for the christening if you are the mother
The first thing to keep in mind is that the protagonist of the day is your baby. Choose simple and elegant garments that you feel comfortable in, and avoid too flashy outfits or strident colors.
Remember that a baptism is a religious ceremony, so try to be especially respectful of the environment. A simple cocktail dress, a long flowing skirt or palazzo pants paired with a white blouse can be your best allies.
If you already know how you are going to dress your baby, you can choose clothes that match some of the details of his or her look. Following the same idea as in the article in which we show you how to match the christening gowns with the siblings., you can choose a detail of your outfit that complements your baby's outfit.
For example, if your baby is going to be wearing a velvet sash, your shoes can be the same shade. In this way you will make a nod to your little one's outfit, leaving him all the limelight.
And while we're on the subject of shoes, don't forget to choose the right footwear. Si eres una fanática de los tacones altos y te sientes cómoda con ellos, no dudes en elegirlos. It is clear that it is the most stylish footwear. However, if you are not used to wearing them or do not walk well with them, our advice is to choose a slightly lower and wider heel. In this case, you can also opt for a pair of ballerinas with some detail to feel comfortable and enjoy the day without foot pain being a concern. Keep in mind that you will have to be on your feet a lot either with your baby in your arms, attending to your guests… or both at the same time! For this reason, the choice of a good shoe when considering how to dress if you are the mother at a christening, can change everything.
What the father should wear
When it comes to choosing the fathers' clothes for the christening, the rules to apply are similar to those of the mothers: simplicity, elegance and comfort.
If you are one of those who always wear a suit and feel comfortable with it no matter what time of the year it is: go ahead. A navy blue or black suit and a white shirt is, without a doubt, a safe bet.
For dads who are a little overwhelmed by the suit, we recommend choosing light but formal pants and pairing them with a plain shirt or a subtle print. A combination that never goes out of fashion and with which you will always succeed. If you want to give it an extra touch of elegance, a blazer to close the outfit can be a good option.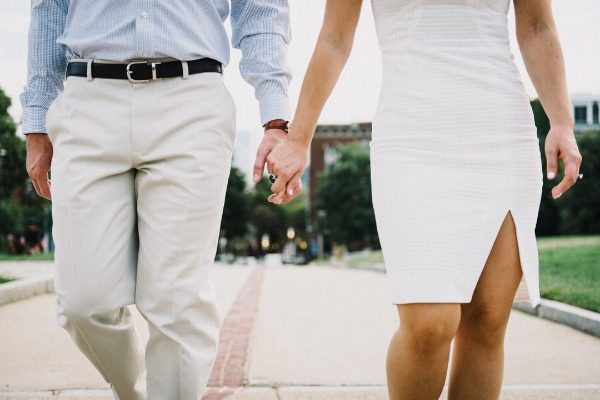 An adorable detail when deciding on clothes for dad at a christening is to consider whether the baby has older siblings. If so, children can wear some clothes to match daddy's clothes , for example: the tie. Similarly, older siblings can be matched with each other. In this way, the siblings will feel much more integrated in this special day that they will always remember. Here is an article with ideas for clothes to match siblings. In this article, you will see, for example, how to combine the child's linen shorts with the saya or the girl's sash.
Clothing for the godmother and other christening guests
If you've come to this article looking for answers on what to wear to a christening in case you're the godmother or one of the guests, we also have some advice that can help you.
We know it's tempting to recycle that dress you wore to a wedding a year ago, but remember: a christening is not a wedding. It is a much more intimate and simple ceremony in which the baby should be the only protagonist.
We recommend that you opt for a simple, mid-calf length dress in a plain color or with a discreet print. Whether you are the godmother or one of the guests, following these guidelines will help you be the most elegant guest.
In addition, you must take into account your personal situation. If you are going to attend the event with your children, choose a shoe that you feel comfortable in so that you can run after them if the occasion arises. A mid-heeled shoe that supports your ankle can be a very good option for these cases.
Hopefully our tips have helped you to know how to dress for a christening whether you are a father, mother or other type of guest. Remember that a baptism is a ceremony where the innocence, purity and simplicity that the child and the sacrament in question represent must be respected. That's why you'll need to choose a look that doesn't take the spotlight away from the baby. Choose an outfit according to these guidelines and enjoy the first big day of the baby you love the most. Happy christening!