If you don't know where to celebrate your communion this year, don't miss this article. In it we recommend restaurants and farms specializing in the celebration of communions . They have large gardens and indoor spaces, inflatables and other entertainment for children, spectacular menus… That is, everything you need to make your little one's communion perfect. Let's see them!
Restaurants to celebrate communion in Madrid
Emiliana House is located in San Sebastián de los Reyes, 5 minutes from Madrid on the A1. It is a restaurant with great prestige where you can celebrate big events such as the first communion, as it has three animation environments for children.
It is located 30 minutes from Puerta del Sol, with easy access to the North Highway A-1 and is well connected by public transportation. It is also handicapped-accessible and has ample parking.
It offers a wide range of services for the little ones: personalized strollers, baby carriages, etc. Candy Bar with sweets, colorful popcorn cups, mini chocolate cookies and juices in a glass dispenser.
Regarding food, Chef Rafa Parro presents five different types of menus at Casa Emiliana. , plus a special menu and a children's menu, all with a communion cake included. These menus combine the cuisine traditional market with a touch of vanguard. In addition, they can be customized with dishes and wines from the restaurant's menu.
It has a wide variety of conditioned spaces, both at the outdoors as well as indoors, which prevents atmospheric variations from hindering first communion at Casa Emiliana. In its winter terrace has distributed stoves that allow to celebrate communion in a cozy way even during the cold months.
In addition, the restaurant is conscious about the Covid19 protocol: All restaurant personnel are equipped with sanitary protection materials (FPP2 masks, gloves and disinfectant gel), in addition to complying with the capacity and safety distance.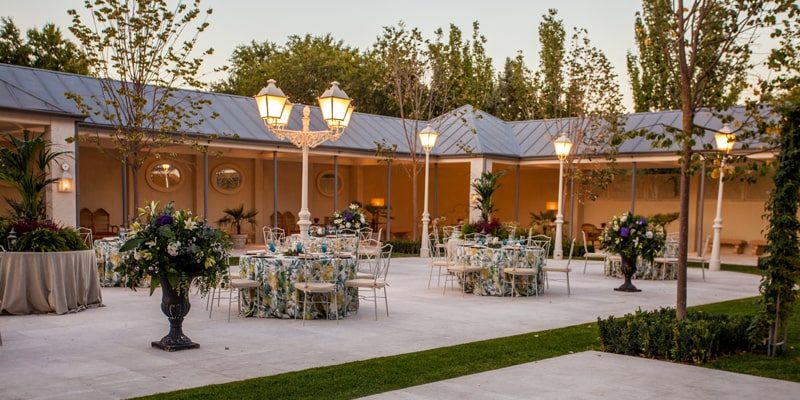 With more than 20,000 m2 and only 10 km from the center of Madrid, FuenteArcos offers you the possibility to enjoy any event, whether it is a communion, or your wonderful wedding in Madrid.
It has corners decorated with care, gardens surrounded by flowers and fountains, play areas designed for the little ones, etc. It has wonderful spaces designed so that each of your guests feel comfortable and only have to enjoy a unique day.
Communions in FuenteArcos make children the protagonists, in a fun and safe space. Running, dancing, playing, having fun… feeling free and accompanied by the people they love the most.
The little ones at home will be able to enjoy the large playground, where they will find a huge castle with slides and mazes that will make children feel like the protagonists of a fun fairy tale.
Swings, seesaws, lawns to run and play on. And for the youngest members of the family there is an area for babies.
In addition, for a super fun first communion party, the kids will have entertainment activities animated by clowns, balloon twisting, face painting and magic tricks.
If what you want is to live the experience of celebrating communion in a garden, in FuenteArcos you will find the perfect setting…Romantic gardens, the sound of the water of the fountains, and the lush vegetation will envelop the day of your child's communion.
Celebrate the first communion in a garden and enjoy nature!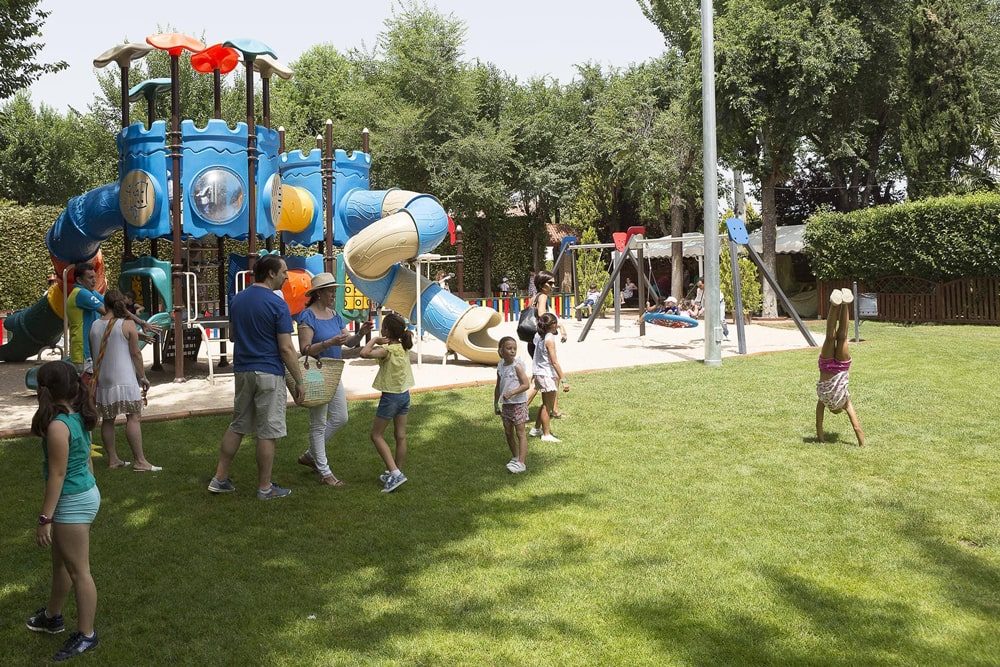 The Quinta de Illescas is located 20 minutes from Madrid and Toledo. It is a space with almost three hectares, of which 25,000 square meters are landscaped, where children can play and run around. In these gardens, you will find fountains and groves of trees that create a natural environment that makes it ideal for celebrate communion of your little one. Children will have fun playing in the bouncy castle, the candy bar, the crazy hour, watching special animations, etc.
In addition to the gardens where both children and adults can enjoy, La Quinta de Illescas has a wide variety of interior spaces decorated in different ways so that you can choose the corner that best suits you. These spaces are decorated by the interior designer Erico Navazo. .
As for the menu, they have a special children's menu for children. In addition to this menu, they have different menus that you can customize depending on what you want the guests to eat at the communion.
If you are looking for an all-in-one restaurant to celebrate an communion in Madrid this is your site!
La Quinta de Jarama is a farm located on the road to Burgos, 15 minutes from Madrid. It has more than 15,000 square meters, of which 11,000 are gardens with fountains and trees. In these gardens, has conditioned porches, which will make the weather is not an impediment and you can enjoy the outdoors in both winter and summer.
In addition to the gardens, it has large, open-plan interior spaces where all guests can enjoy the celebrate communion together. You will be able to customize the decoration of these spaces to adapt them to the style you want to give to the communion. In this estate you can also add inflatables and other entertainment for children.
These spaces are complemented by an excellent gastronomy, supported by the national hospitality award won by the restaurant in 2010 .
If you need help to organize the communion, do not hesitate to let us help you. event organizers that La Quinta de Jarama offers you. De esta manera, te puedes asegurar de que la comunión sea inolvidable y no tenga imprevistos.