This year his First Communion….
We continue to accompany you in the organization of the First Communion We will help you to make sure that on that special day everything is perfect and that you arrive on time, "without binge eating" and without last minute nerves on the day of the event..
After the success of our first article in this series about how to choose the place where to celebrate the First Holy Communion, today we want to tell you about the types and styles of Communion dresses for girls. Thus, you will have room for maneuvering to find the right Communion dress that best suits you.
How to dress children on their First Communion day is a very extensive subject. For this reason, we will devote another article in the near future to the children's Communion dressess. Today, we will focus on the Communion dresses for girls and we will show you the wide range of possibilities you have to dress it.
Types and styles of communion dresses for girls
The classic Communion dresses:
The classic Communion dresses are those with organza trimmings. If by any chance you still keep your First Communion dress, más probable que sea el caso. Like any classic, the organza dresses and stitching are very elegant and never go out of style. Although it is becoming less and less common to see girls with this kind of Communion dress, there are still many people who prefer it above the rest.
Communion tunic dresses or Communion robes
The Communion robes are another classic and inspire purity and tradition. They are very common in nunnery schools where it is usually the school or the parish that provides this service. Communion attire. In these cases, it is normal for the child to bring her own Communion dress under the tunic, which is the one that will be worn later during the celebration party.
The classic Communion dresses renewed: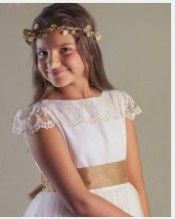 The renewed classic Communion dresses are the latest trend in Communion dresses. These are dresses that maintain the classic cut, but at the same time make use of more modern fabrics than organza, such as ottoman, tule or plumetis, materials that allow us to achieve a romantic and unique Communion dress.
In addition, these fabrics give much play with the contrast that can bring the sashes, lace, trim, ruffles or combination of fabrics.
Short Communion dresses
the short Communion dresses are a very good alternative in cases where girls do not want to see themselves dressed in a Communion dress long. They are ideal for little girls who don't like to dress up as princesses because they want to feel simple and comfortable to play, run around with their friends and enjoy their day to the fullest; and yet, they also want to feel pretty. The short Communion dresses are a very valid option to take into account (and every day more common) if your daughter is one of those who does not dream of a long dress.
Modern Communion dresses
The modern Communion dresses are those made of different and fancy fabrics. They can imitate petals, use a lot of embroidery, have a lot of tulle… They are the Communion dresses that most remind us of wedding dresses.
At the time of choosing a Communion dress for your daughter, the most important thing is to keep in mind that the dress is for her and that she will probably already have it in her pocket. mente cuál es su type of Communion dress dreamed of.
Ask your daughter how she would like to dress up on the day of your Communion and see as soon as possible what Communion dresses do you like and what accessories can be used with them. With this base, you can start visiting showrooms and specialized stores according to your tastes.
You will surely find the perfect Communion dress!